This cipher first appeared in print in 1539, on fol. 212v of Teseo Ambrogio Albonesi's "Introductio in Chaldaicam linguam, Syriacam atque Armenicam et decem alias linguas characterum differentium alphabeta circiter quadraginta et eorundem invicem conformatio". St John's College in Cambridge has John Dee's copy of this book, complete with Dee's inscription on the title-page and annotations throughout (though it is not known if Dee attempted to decrypt this cipher).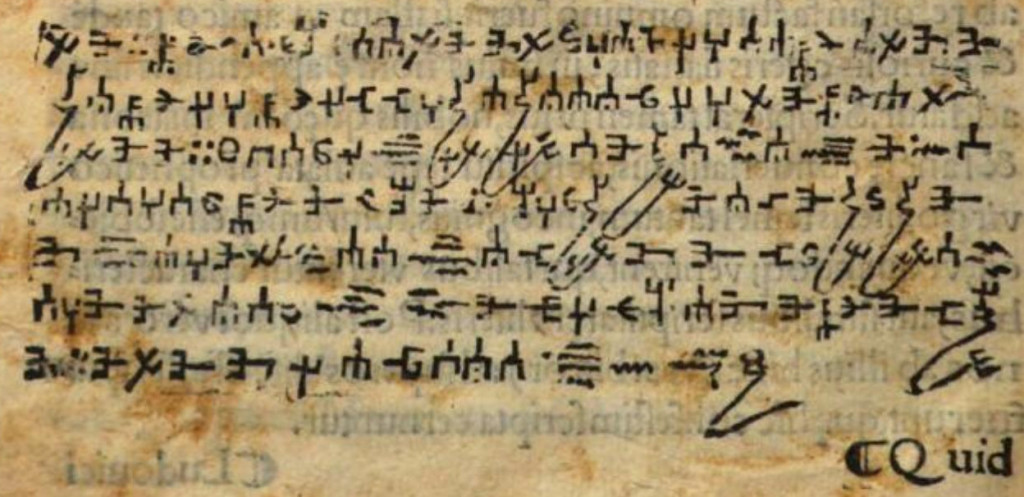 For scans of this cipher, click here.
For references to this cipher (it became famous during Charles II's reign, and a copy of Albonesi's book held at Queen's College quickly became a must-see item for tourists visiting Oxford's sights), click here.
The text immediately before the cipher reads as follows (abbreviations expanded into square brackets):
* Ludovici Spoletani p[er]ceptu[m?] sive (ut vulgo dicitur) co[n]iuratio. Cum subscripta Demonis responsione.
Ve comando Amon, per lisette co[m]mandamenti, per li dicisette Mastri, per fe dece potentissime parole, o ver nomi cho le quali io Mastro vostro ve invoco cheseti constriti ha viniri, e per Talion, Ansion, Amlion, per Giorastro terzo, per li ottanta Demone, & per tutte le potentie fivine, che me debiate scrivere la verita in questa medesima sena fraude, inganno, duppieza alcuna, chiaro non confulo, hapertamente che ve possa iintendere, sel Cavaliero Marchantonio figliolo de riccha donna da Piace[n]za, ha ritrovato tutti li dinari che laso Antonio Maria, & se no in qual loco sono.
* No[n] ta[m] cito penna[m] Magus deposuerat, qua[m] cito q[ua] adera[n]t penna[m] eande[m] corripi, & in aera sustolli, & in eande[m] charta[m], i[n]frascriptos characteres velociter scribere videru[n]t, scribe[n]tis vero manu[m] nullus co[m]prehe[n]dere poterat. Ut mihi aliq[n?] retulit, qui cu[m] multis presens fuerat, & cu[m] postmodu[m] Papia[m] ve nisset, & factu[m] ut fuerat enarret. Rogatus archetypu[m] mihi reliq[ua]t. Cuius verba adscripsi. Characteres vero tales erant.