"The Blitz Ciphers" were, according to their (rather reticent) owner, found by a relative of his just after WWII. They were discovered in wooden boxes concealed in the wall of an East London cellar that German bombing had exposed: the ciphers were first described in this December 2011 post on Cipher Mysteries, where they were given their name (though they appear to predate the 1940s by some considerable time).
Images
Eight images (each at roughly 4MP resolution) have so far been released, though it is believed that the complete set is significantly larger. Note that the numbering below is mine (based roughly on order of appearance on the web).
#1: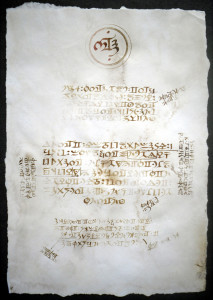 #2: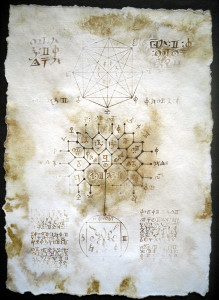 #3: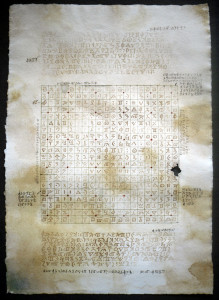 #4: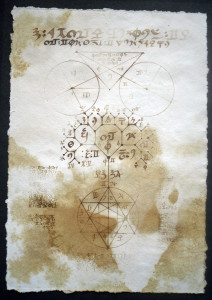 #5: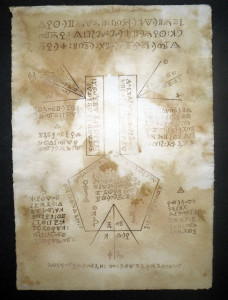 #6: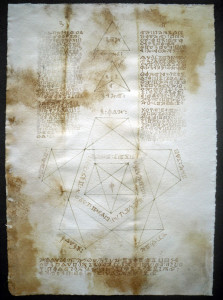 #7: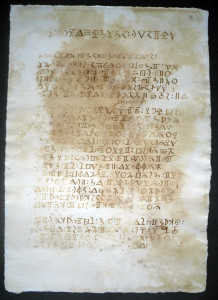 #8: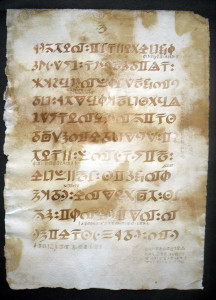 Codicology
The Blitz Ciphers seem not to have yet been physically examined or analysed by specialist historians: they give the impression of having been written on hand-made paper, but no watermark has yet been determined. The text itself has several corrections and appears to have been written by at least two different hands in apparently quite different inks – most notably, a larger, bolder 'presentation hand' and a small, finer 'annotation hand', which includes some underlining. Many parts of the writing are now badly faded.
The pages we have contain a number of unusual geometric diagrams, resembling annotated tiles or mathematical 'trees', which do not seem to have obvious analogues in other old documents. Another page has a large, well-structured table, with many internal regularities (including 16 regular instances where specific characters fill 2×2 subgrids of the table) but also no obvious explanation.
Transcription
Here is my (provisional) transcription key (click on the image to open up a much larger version):-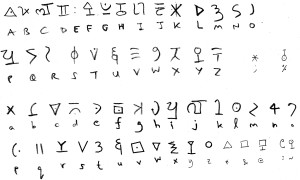 Here is a (provisional) transcription of part of the text using this transcription key:-
BMnESCMXJoEDji
dYajJAQeEJVWYE
MlFZAYkETDlJC
fBDJiCEgIQpMBk
YkBSTZqYjMrqBl

BSBjEeSEMD
BCEY

ABCDEFGHIJKLGMNFEO
PQRkEGSTjUCVBWXAYZ
ILaMCEBbZXcdDSDebJ
fgIYcdMeiCYejSDB
FXYSDeFHEkkCjSAeDE
GMaQejMEDEMAZDlTbIeX
SBCBl

SBSDEe
jMpnEl

MEnYlBCEDlGeBMUElsmLDCYE
dDlSDEQKGYASDQHEDCD
QgCMsmYJoUWFBWgVCED
MfSaQiBBXCJoE

SBDBlDMDBl
fTBeMCZS
dsECEDYrEE

JBeSBCBSEDBeebDlrES
BCDBDEMCEDEYbEg
ieeXYBDiSqEQM

SCEDCEeS

lBDSC
BeYkElE

VvEBultgLYQXCcjIcSIEBMqEdqlT

SBHATmYgEIDBjZXYBDDIpddZMDAVE
AQZBFjBqEetEuHebggdXYBnEIDeQmM
jgmHZYeeAEBdSgtjvMLgjEslUd
SlfBjgmMpXndZlwDgltjJoDm
FxMjCeANcjKnjMZHlTRlBfREl
dEDtuKNKMjAEDGToglEAVRZA
mcCZlpZdnBcmEGkED